"How People Treat You Is Their Karma; How You React Is Yours." ~ Wayne Dyer
Let's consider what the heavens are trying to tell us at this Leo New Moon solar eclipse at 18-degree 42-minutes, which occurred at 2:58 a.m. PT & 5:58 a.m. ET on August 11.
We astrologers know that no heavenly occurrence happens in a vacuum, and that it's the faster moving planets that trigger the energies of slower moving ones into action at precisely the right time for each of us.
Such events—be they internal or external–are triggered into action depending on our ast karma. Our reactions to these events help us to move forward and create new, more positive karma through our decision to allow the heavens to assist us to symbiotically co-create our own futures as we move forward in this lifetime.
It's important to remember there's nothing we can do to change past karma, whether we trace such karma to this lifetime, past ones, or both. However, we must not let that keep us stuck in any mental, emotional, physical, or spiritual loops that serve only to reinforce self-blame, self-criticism, or self-judgment.  
   Rather, just as they are finding in the scientific world of neurobiology, we may create new mental grooves that help free us from past ideas, beliefs, assumptions, rationales–or anything else that no longer serves our greatest good moving forward.
   When we remain stuck, we usually find outselves with one of two choices:
1) deciding we are the helpless, hapless, victim who blames everyone else for our own misfortune without taking responsibility for our own role in the energetic dynamic of our life; 2) continuing to move forward with externally-imposed beliefs, judgments, and criticisms that come not from our inner higher self (or soul) but rather from people and events that convinced us that such beliefs, etc., are right for us.
This Leo New Moon solar eclipse calls us all to look deep within our hearts (Leo=HEART!) and find the courage to discover what makes us uniquely special–regardless of what we were told, taught, or forced to believe by others or through our circumstances growing up.
It asks us also to look beyond our fixed world and to imagine a future free from such negative internal dialogues–be they conscious or unconscious–and to fill our lives with greater reverence for our own true light. Doing so allows us greater perspective on the fact that's neither all our fault or the fault of others, but rather that we bear responsibility for hiding ourselves away out of fear of being noticed and thus drawing to ourselves additional victimization OR criticism & judgment…
"The Past Is The Present, Isn't It? The Future, Too."
~ Eugene O'Neill
All new and full Moon lunations may act as triggers, though they also set the tone for the remaining approximate 14-day period of the waxing lunar cycle (in the case of a new Moon) or waning lunar cycle (in the case of a full Moon.)
To best understand the energies of this August 11 Leo New Moon solar eclipse, let's look back before we try to peer ahead…
Here's what we already know:
The July 12 Cancer New Moon solar eclipse called us to recognize our deepest emotional vulnerabilities, & to plant seeds of self-compassion that allow us to come out of emotional hibernation
The July 27 Aquarius Full Moon lunar eclipse reminded us that we're part of a greater whole—yes–but one that needs our individual, unique, creative, solar talents to help humankind survive & thrive
We also know that, according to astrologer Bernadette Brady in her book
Predictive Astrology, The Eagle & the Lark, the theme of both these eclipses was "action concerning relationships." Brady points out that these eclipses may have brought about unfortunate news concerning separations or endings of friendships or relationships…however, due to quick action the final outcome may well be positive.
July 12's Cancer New Moon solar eclipse asked to plant seeds that will grow into the healthy, strong desire to reveal to the world our emotional vulnerabilities without shame, blame, self-criticism or judgment.
Here are some questions we might ask ourselves since this eclipse:
Where have I been forced to acknowledge my most vulnerable self?
How did I deal with this and can I now be honest with both myself and others about what really hurts me most?'
Can I feel the self-compassion necessary to recognize I am only human and that my capacity to feel hurt is something I share with every human being, regardless of the circumstances that created the hurt?
"Turn Your Face To The Sun And The Shadows
Fall Behind You." ~ Maori Proverb
The July 27 Aquarius Full Moon lunar eclipse asked us to apply our growing sense of self compassion and ability to withstand hurts, slights, and emotional pain without resorting to negative past karma that drives us underground or back into hiding in our emotionally protective shell.
At a full Moon, the Sun's light is reflected back to it.This serves as a reminder of both the positive and negative archetypal range of energies inherent in any given zodiacal Sun sign. At the same time, it reminds us that no archetypal energy exists in a vacuum because there's always an archetypal polar opposite, in this case Aquarius.
The July 27 Aquarius Full Moon lunar eclipse highlighted back to the Leo Sun that we must jettison whatever it is about the Leo archetype that no longer serves our highest and best interest. At the same time, it reminded us that if we let go of any negative Leo traits (arrogance, excessive pride, selfishness, etc.), we may find it easier to integrate our own unique creative specialness into the collective.
 Since this eclipse was about relationships as well, we might now ask ourselves these questions:
Where do I still need to let go of friends, groups, associations, whose ideological beliefs I don't truly share?
How I can both honor AND integrate my own creative unique talents & abilities into my community, tribe, family, groups, etc., without losing a strong sense of myself?
What will it take to allow me to see myself more clearly and objectively, without feeling either too small or too large a part of this world?
In short, the Aquarius Full Moon lunar eclipse reminded the Leo Sun to individuate. Yet how can we individuate without knowing  and fully appreciating who we truly are, and by possessing true Cancerian self-compassion for that true soul within us?  
Releasing that which keeps us tied to society, the collective, personal groups, tribes, associations, and/or friends who don't allow us to express our solar gifts–or worse yet, denigrate or ignore such talents—will not serve us as we create more positive future karma…
By the same token, we're not necessarily to demand being treated like a star, but rather accept our place as a cog in the wheel of a society that needs our talents and gifts to help promote the betterment of humankind.
"It's During Our Darkest Moments That We Must Focus
To See The Light." ~Aristotle
The third eclipse in this series, the August 11 Leo New Moon solar eclipse, returns once again to the seed planting theme. Now that we've received the message that we must develop true self-compassion to release our fears around being part of any group in a meaningful way, we can work on developing & expressing our unique creative identity.
Bernadette Brady reveals that this eclipse may well result in the collapse of "plans or life-styles," and that this may result in confusion. However, "the long-term effects are those of rebuilding and transformation," which can result in long-lasting consequences. "This eclipse family changes a person's direction through the sudden collapse of an existing structure," Brady concludes
As the Sun and the Moon come together in the Sun's dignified sign of Leo, we're reminded it's always darkest before the dawn. It takes faith to hang on to the hope that we'll be able to glimpse that miraculous first sliver of light as the Moon begins to pull ahead of the Sun.  
Meanwhile, Uranus in Taurus, newly retrograde as of August 7, squares the transiting Nodes, and is squared by retrograde Mars in Uranus-ruled Aquarius at this eclipse, a strong signal that change is in the air, like it or not…
Uranus remains in retrograde motion until January 6, 2019 & brings to a total 7 planets appearing to move backward through the heavens right now. Together with Mercury, Mars, Saturn, Neptune, Pluto, & Chiron, Uranus asks us to withdraw inward and do a bit of soul searching.
With so many planets retrograde, we know it's not a time for action, but rather one to plan, strategize, think, analyze, and generally plot our future instead of simply stumbling forward aimlessly. As noted, Mars' retrograde through Aquarius–the sign ruled by Uranus—since June 26 placed emphasis on the message not to fly off the handle right now, but rather to take everything as slowly as possible to allow mental revelations to happen.
The symbiosis between these two planets and their movements tells us we've been reviewing the ideological basis upon which we formulate both our values and our actions.
Mars moves back into the sign of Capricorn on August 12, where the warrior god should be far less impetuous, anxious, or accident prone, & more capable of planning for future security. However, we must remember that he's still square Uranus in the sky right now, which may make us yearn for some type of action, and in the absence of our ability to act, cause us irritation and annoyance.
I Forgot I Had A Choice…
The Leo Sun, Moon, & Mercury (now retrograde) waxed into frictional quincunxes with evolutionary Pluto retrograde in Capricorn at this Leo New Moon solar eclipse, confirming that this lunation is indeed a part of our evolutionary process.
To me this energy feels a bit like the Nine of Wands in the tarot, which depicts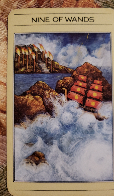 that we may feel depleted, exhausted, depressed, discouraged, or weary at this stage of our evolutionary journey. However, if we can muster jut one more ounce of energy, simply make one final push forward, we can meet successfully whatever challenges life has thrown at us thus far.
   Though irritated, annoyed, or aggravated, we must remember that the only alternative to evolution is extinction.
   Meanwhile, this lunation also squares a Juno/Jupiter opposition, confirming again the theme of a possible break in relationships. Juno=Hera, the wife of Jupiter=Zeus in Roman & Greek mythologies respectively, and they enter the limelight now since both square the transiting Nodes we well…
Jupiter trines Neptune, however, signaling that it's possible altruism can win the day, especially if we focus our efforts on sharing those gifts of ours with those to whom we are connected by virtue of being human.
Venus in Libra, her own sign, squared Saturn in Capricorn at this lunation & eclipse, highlighting that obligatory issues in our partnerships may factor heavily at this time.
Where do we do what we what we think we must in our relationships vs. doing what we truly desire? The answer to this question is bound to allow us to proceed further along our evolutionary journey by allowing us to express our true desires vis-à-vis relationships, rather than simply follow an arbitrarily decided upon set of "rules."
When Mercury stations direct August 18, Mars does the same August 27, and Saturn moves forward again on September 6, we should begin to see the momentum pick up in terms of our outward actions and expression…at least until Venus stations retrograde in Scorpio October 5…
The good news? Venus will join only Uranus, Neptune, & Chiron retrograde then, though Juno will join the backward parade October 12 as well, so be sure to stay tuned! 
Here's Katy Perry's ROAR, which seems an appropriate example of how to move away from hiding one's light under a bushel, whether that opportunity is granted us
by choiceor by circumstance…

Katy Perry
"I used to bite my tongue and hold my breath
Scared to rock the boat and make a mess
So I sat quietly
Agreed politely
I guess that I forgot I had a choice
I let you push me past the breaking point
I stood for nothing
So I fell for everything
You held me down, but I got up
Already brushing off the dust
You hear my voice, you hear that sound
Like thunder gonna shake the ground
You held me down, but I got up
Get ready 'cause I've had enough
I see it all, I see it now
I got the eye of the tiger, a fighter,
dancing through the fire
Cause I am a champion and
You're gonna hear me ROAR
Louder, louder than a lion
Cause I am a champion and
You're gonna hear me ROAR
Oh oh oh oh oh oh
You're gonna hear me roar
Now I'm floating like a butterfly
Stinging like a bee I earned my stripes
I went from zero, to my own hero
You held me down, but I got up
Already brushing off the dust
You hear my voice, you hear that sound
Like thunder gonna shake the ground
You held me down, but I got up
Get ready 'cause I've had enough
I see it all, I see it now
I got the eye of the tiger, a fighter,
dancing through the fire
Cause I am a champion and
You're gonna hear me ROAR
Louder, louder than a lion
Cause I am a champion and
You're gonna hear me ROAR
Oh oh oh oh oh oh
You're gonna hear me roar
Roar-or, roar-or, roar-or…"